Looking for my Press Kit?
Articles, interviews, and other places my work and career journey have been featured:
Interview (with L. Maren Wood), "Opening Doors for Students by Celebrating PhD Career Path Diversity: Learning to Eliminate Default Career Mindsets," Helium podcast, episode 14.
D. Mark, "Why "Follow your passion" isn't always good career advice," CBC Life, 26 March 2018.
"Interview with Jennifer Polk," Recovering Academic Podcast, season 2, episode 6.
Elie Dolgin, "Outside the lab: Side jobs for scientists," Nature, vol. 549: 297–299 
In conversation with Daniel H. Kwan, Curiosity in Focus podcast, ep. 31, 28 August 2017.
Oliver Bateman, "The Young Academic's Twitter Conundrum," The Atlantic, 10 May 2017.
Simona Chiose, "Sharp differences in career paths of PhD grads across fields, UBC study finds," The Globe and Mail, 13 April 2017.
Sudiksha Joshi, "Life and Lessons After PhD, Beyond the Academia," We Are Always Learning, 21 February 2017.
Laura Zimmerman, "Finding your dream psychology career," Monitor on Psychology, Vol 48, No. 2, 2017.
Interview with Rick Shenkman, History News Network, 7 Jan 2017.
Interview with Dan Otter and Scott Dauenhauser, Teach and Retire Rich podcast, ep. 37, 13 Oct 2016.
"Help for Academics Thinking Beyond the Professoriate," Interview with Daniel Fincke, "Camels with Hammers" blog, patheos.com, 4 May 2016.
Interview with Daveena Tauber, ScholarStudio Session, video, 13 Jan 2016.
Interview with Erik Marshall, WET Podcast: Writing, Education and Technology, ep. 046, 12 Dec 2015.
"The Who's Who's of Canadian Media were at the COPA Awards in Toronto to celebrate digital publishing excellence," Canada NewsWire (press release), 27 Nov 2015.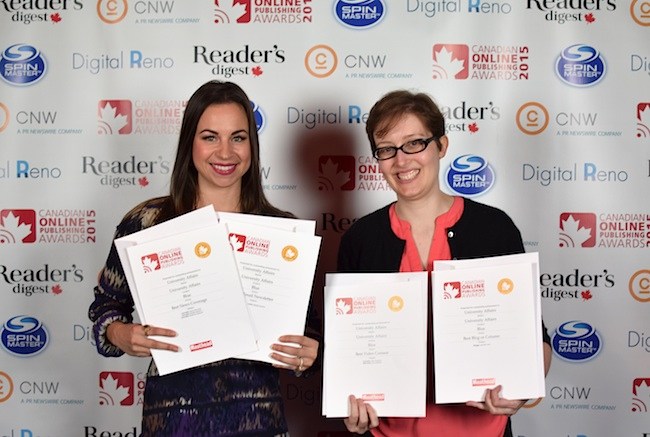 Interview with Scott Rank, The Scholarpreneur Podcast, ep. 023, 16 Sep 2015.
Suzanne Bowness, "What's up with alt-ac careers," University Affairs, 8 Sep 2015.
Interview with Chris Jones, Rock Your Research (podcast), ep. 004, 25 Aug 2015.
Stacey R. Devlin, "Finding Myself at Congress," The Pixelated Historian, 31 May 2015. (Thanks for reading, Stacey! Neither of us are losers!)
Carrie Arnold, "Feeling Stuck," Science Careers's Career Magazine, 28 May 2015.
Katie Rose Guest Pryal, "Thriving as a Freelance Academic," Vitae, 8 May 2015.
Jet, "What it might mean when you begin to 'put yourself in charge,'" Ruminations: Life after Academia, 19 Mar 2015.
Andrew Kloiber, "Fears of a post-PhD future," ArchivalAdventure, 19 Mar 2015.
Scott Rank, "13 Academics Speak Out: 'What Would I Do If I Had No Hope of Tenure?'" The Scholarpreneur, 9 Feb 2015.
Katie Rose Guest Pryal, "The University is Just Another Client," Vitae, 5 Feb 2015.
Joanne Kamens, "Career Coaching for Scientists: Why and Where Do I Find One?" Addgene blog, 29 Jan 2015. Nice to be included!
Interview with Marco Altamirano, GradSquare Radio (podcast), 22 Jan 2015. Hear me talk about my post-PhD transition, my coaching work, and challenges faced by PhDs on the non-academic job market.
Christopher Stroop, "The American Red Cross and YMCA in Revolutionary Russia, 1917-1924," 12 Jan 2015. This is a review of my PhD dissertation!
Gwendolyn Beetham, "Finding a Mentor," University of Venus blog, 14 Oct 2014.
Jackie Amsden, "Avoiding the Post-Grad Scramble: Dr. Jennifer Polk, history grad, on her alt-ac career path," SFU Graduate Studies & Postdoctoral Fellows blog, 27 Jun 2014.
Josh Dehaas, "When PhDs realize they won't be professors," Maclean's, 22 May 2014. I'm featured along with Charmaine Grant and Allison Sekuler.
Alex Dalenberg, "Escape from the Ivory Tower: Ph.D.s ditch campus for startups and beyond," Upstart Business Journal, 29 Apr 2014. I'm featured in this article, along with Maren Wood, Aaron Barth, and others.
Interview with Cheri DiNovo, 3 Women (radio program), CUIT 89.5FM Toronto, 10 Dec 2013. Cheri interviews me beginning half-way through.
Interview with David Austin Walsh, "Jennifer Polk: 'Recent PhDs Need to Have their Confidence Boosted,'" History News Network, 5 Aug 2013.
Interview with Dan Mullin, the Unemployed Philosopher's Podcast, episode 11, 4 Jun 2013.
Liz Covart, "How to Network: My Interview with Jennifer Polk, Ph.D.," Uncommonplace Book, 10 May 2013.
"Rogue Scholar Salon: Introducing Jennifer Polk and From PhD to Life," Fiction Reboot | Daily Dose, 3 Feb 2013.